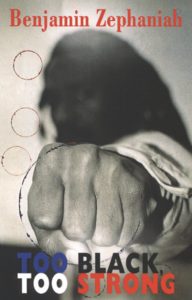 A review of Benjamin Zephaniah's Too Black, Too Strong ( Bloodaxe Books, 2001).
Benjamin Zephaniah has been active as a writer and a performance poet since the early 1980's and he has gradually made a name for himself as a radical, revolutionary Black British"dub poet". His first collection of poems was published in 1980 ( Pen Rhythms) and since then Zephaniah has published at least eight other collections like City Psalms ( 1992) and Propa Propaganda ( 1996), both published by Bloodaxe Books.
Zephaniah has also written several plays, recorded with various bands and even written poetry books for children ( Talking Turkeys). The man seems to have creativity to burn.
Nevertheless it must also be said that Zephaniah is a controversial poet as he caused quite a stir in the 1980's when he was nominated for the Oxford Professorship of Poetry, and some academics have found fault with his brand of oral poetry.
Over the recent years Zephaniah has "branched out', started a new career as a writer of children's poetry and it was felt in some circles that the old firebrand had gone soft.
Too Black, Too Strong is the answer to those who think that Benjamin Zephaniah has become an "establishment poet" and has stopped writing protest poetry, but it is also a new acollection of poems which shows that Zephaniah is maturing as a poet, and this is visible in the thematic range displayed in this book. The form chosen by the poet also points in that direction.
A cursory look at the poems gathered in Too Black, Too Strong would suggest that the message intended by the poet is that Benjamin Zephaniah has not sold out , but is still a radical Black British dub poet. That seems to be the message conveyed by the poems entitled " Bought and Sold", "What Stephen Lawrence Has Taught Us", "Two Dozen Babylon" and "Having a Word". The titles speak for themselves.
It is true that Too Black, Too Strong contains its fair share of protest poems in the early Linton Kwesi Johnson tradition, poems about the black cause, the oppressed and racism in Britain.
Nevertheless reducing Zephaniah's poetry and latest collection of poems to that dimension would be to do him a sad disservice. Indeed many poems in Too Black, Too Strong are poems of celebration and joy, and cannot be reduced to the protest tradition.
The poem entitled "Carnival Days" is a wonderful celebration of Caribbean culture in Britain
and sets the Notting Hill Carnival in the context of multicultural Britain: the old imperial centre has become the centre of Carnival/Caribbean culture:
" On days like these the elders say
Astronauts can see us dance
Glittering like precious stones
On dis rocking British cultural crown"
The theme of celebration is also present in poems like "The London Breed" and "The Big Bang" which deal with the poet's Black British identity. Zeohaniah's use of humour and wordplay comes through in "The London Breed", a poem about the pull of the big city and its ability to produce a new culture:
" It's so cool when the heat is on
And when it's cool it's so wicked
We just keep melting into one
Just like the tribes before us did"
In fact the whole collection is a potent assertion of Zephaniah's Black Britishness and the poems are preceded by an essay entitled "What Am I Going On About ?" in which the poet candidly tells the reader about his Black British identity: he is not a Rastafarian who yearns to go back to Zion/ Ethiopia but a British person who happens to be black. He makes it clear that Britain is now "home" to him and that he sees it as his duty to tour the world and let it know what today's Britain is about.
Nevertheless Zephaniah is also aware that he has been "promoted" as the voice of Black Britain, the "angry black poet" as the title of one of his poems in his previous collection goes. In the poem entitled "Knowing Me", he addresses those who would like him to play the part of the radical black poet in the throes of an identity crisis:
"According to de experts
I'm letting my side down,
Not playing the alienation game.
It seems I am too unfrustrated.
I have refused all counselling
I refuse to appear on day time television
On night-time documentaries,
I'm not longing and yearning.
I don't have an identity crisis".
So the poet seems to shy away from the commodification of his art and to adopt an independent stance, which shows that he is maturing as a poet. This process of maturation also appears in the range of themes displayed in this collection, from poems about animal rights ( " We People Too") to poems that deal with international issues like the situation in Palestine ( " Christmas Has Been Shot") or with religious bigotry ( " The Woman Has To Die"). These poems show Zephaniah as an open-minded, thoughtful and caring poet whose horizons are been broadened by constant travelling.
Another interesting development in this collection is that Zephaniah seems to write more and more for a reading public. Indeed there are very few attempts at transcribing the sounds of Jamaican patois or dialect, and most of the poems are in "standard English", maybe to reach a wider audience or readership. Moreover the introduction entitled "What Am I Going On About ?" and the essay "The Empire Comes Back" can be seen as framing devices which let the reader know about the poet's concerns and objectives. These two essays show that Zephaniah, although he remains a performance poet at heart, is writing more and more for the page and is trying to reach out to a wider readership.
All these factors make Too Black, Too Strong an interesting and challenging collection of poems, but some problems remain. Indeed it must be said that Zephaniah's poetry is primarily performance or oral poetry, poetry that is meant to be chanted or ranted in front of an audience, and as such, it does not always come out too well on the printed page. This problem is not limited to the poet's latest collection and is true of his whole work or of oral poetry in general. In other words, how do we get to assess the poetical nature of Zephaniah's poetry ? One possible answer would be that assessment is not what this poetry was written for: it was written to be performed orally and to move people. As a consequence, the poet's voice, gestures and body all play their part and are absent in a book.
Oral poetry, by its very nature, is difficult to apprehend on the written page and Zephaniah's poems are no exception. That said, certain poems in Too Black, Too Strong are better then others, and it is undeniable that the poem entitled "The Men From Jamaica Are Settling Down" works much better on the printed page and probably orally than the one entitled "Heroes". The reader cannot help feeling that some poems in the collection should have been "reworked" or left out.
Nevertheless it must be said that Too Black, Too Strong is proof that performance poetry is alive and well in Britain, and that Benjamin Zephaniah is constantly maturing as a poet, refusing to be pigeonholed into neat categories and pushing his chosen medium into new dimensions. For that poetry lovers should be thankful.